Speak of mystical cathedrals, fancy castles and beautiful villages, and France will come to your mind. From the Eiffel Tower to the French Alps, each region has its charm. Indulge in it all with our list of the most famous landmarks of France and its history. 
Let us take a look at 15 Famous Landmarks of France and their history
01. Eiffel Tower- The most famous landmark of France
We begin with the Eiffel Tower, the modern symbol of the country. Standing 320 metres tall and made of 8,000 metallic parts, Gustave Eiffel designed the "Iron Lady" for the World Fair of 1889. Surprisingly, critics loathed the landmark initially. However, now, it is an irreplaceable part of France's skyline.
02. Louvre Museum 
Not many know that this fine arts museum was once a royal residence. Several of the world's most famous works are found here, including the Venus de Milo sculpture and the Mona Lisa by Leonardo DaVinci. The Louvre possesses an incredible collection of 35,000 artworks – the contributions of various rulers who lived there. You would be surprised to know that it is impossible to cover all of the museum's works even if you spent a week. Read 10 facts about the louvre that you probably did not know here
03. Palace Of Versailles
The Versailles speaks volumes about the power of the French monarchy. Initially a small hunting lodge, Louis XIV transformed the space into a glamourous palace with a Baroque interior. This landmark, created by Jules Hardouin-Mansart, is designated as a UNESCO World Heritage Site. The palace's most lavish looking space is the Hall of Mirrors, where the room sparkles from the sunlight that enters the windows. 
04. Côte d'Azur
Côte d'Azur, which extends from Saint-Tropez to Menton, near the Italian border, means "Coast of Blue." This splendid water destination is also known as the French Riviera. Situated in the town of Nice, the city offers not only panoramic sea views but also stellar art museums.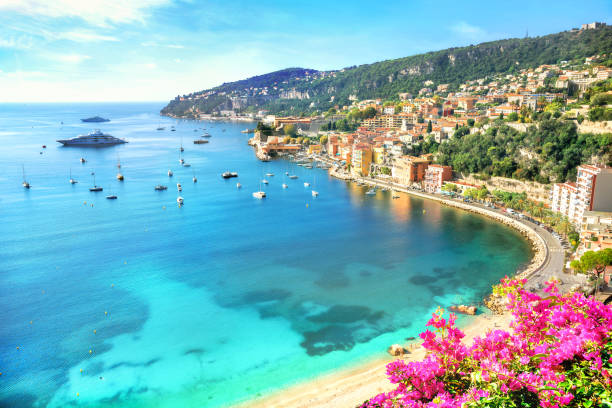 05. Mont Saint-Michel- One of France's most famous historical landmarks
Easily one of France's most famous historical landmarks, Mont Saint-Michel makes a dramatic entrance off a rocky islet off Normandy's coast. The "Pyramid of the Seas" stands 80 metres above the water and massive walls surround it. The main attraction here is the Abbaye de Saint-Michel, a church influenced by Gothic architecture. Following the tradition of the Middle Ages, several pilgrims still cross the bay on foot.
06. Loire Valley Châteaux
With enchanting river valleys, woodlands and castles, a trip to the Loire Valley will feel as though you're in a children's fairy tale. This "Garden of France" is a UNESCO World Heritage Site. The fortresses built on hilltops were means of enjoyment, outside the court life in Paris.
07. Cathédrale Notre-Dame de Chartres – A famous ethereal gorhic landmark of France
For centuries, Chartres Cathedral has stood to inspire the faithful and restore faith in the doubtful. Its world-famous stained-glass windows create a magical effect. This UNESCO listed landmark is a trademark of ethereal gothic architecture. Every year, from April to October, the town of Chartres hosts the Festival of Lights. The event includes illumination of the cathedral and twenty other monuments around the city. Notre-Dame de Chartres cannot be missed from the list of famous landmarks of France.
08. Provence
Known for its olive groves, rolling vineyards, lavender fields and pine forests, Provence lies in the South of France, bordering the Meditteranean Sea and Italy. Its gorgeous landscape has enchanted several famous artists, including Picasso. Known for its delicious cuisine, on a lovely day, one may explore Provence's rustic cobblestone streets.
09. Chamonix-Mont-Blanc
Standing at 4,810 meters, Mont Blanc is Europe's highest peak. Beneath the mighty mountain lies a village named Chamonix, with cosy restaurants and historic churches. Whether you are looking to ski, rock climb, hike, or relax, Mont Blanc is a great spot.
10. Alsace Villages- A famous landmark of France that has the most beautiful villages
All things pretty come in small packages and France's Alsatian villages are no different. These villages border Germany and Switzerland. You would find small churches and pastel-painted homes here. Several of them have won France's "Villages Fleuris" award in the past. The coloured balconies and narrow cobblestone streets are so pretty that Alsatian villages are "Plus Beaux Villages de France" or Most Beautiful Villages of France.
11. Carcassonne
Like Loire Valley, Carcassonne looks like a fairy tale too. The city is made of winding cobblestone and old homes. A visit gives one a glimpse into the Middle Ages. This UNESCO listed town is famous for the Basilique Saint-Nazaire, made of stained glass windows. Several gather here on July 14th to observe the Bastille Day Fireworks as well.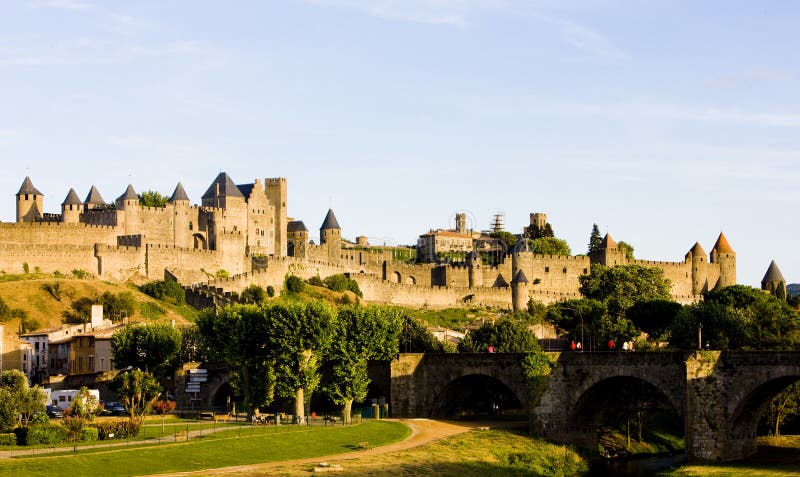 12. Brittany
Brittany, of northeastern France, ticks all boxes, from a lovely coastline to delicious cuisine. A land made of legends and myths, Brittany shows the Celtic influence. Its dialect is similar to Gaelic as well. The world-famous French crêpes are a Breton speciality. The pristine sand, ancient castles and remote islands make up the essence of Brittany.
13. Biarritz- A fancy famous landmark of France
Another one on our list of famous Landmarks of France is Biarritz. A fancy beach town along the Bay of Biscay. It was Napoleon III's wife's favourite holiday destination. However, the couple's grand palace is a luxury hotel today. The sensational view of the Grande Plage beach has attracted celebrities worldwide. Today's Biarritz is modern and fashionable. But, the Miremont Tearoom still serves the best pastries with a vintage touch.
14. Rocamadour
Standing on a limestone cliff, Rocamadour is a sacred site. This spot was most important after Jerusalem and Rome in the 11th century. Long back, pilgrims made a stop here on their journey to Santiago de la Compostela in Spain. The UNESCO-listed Basilique Saint-Sauveur church's virgin mary is made of walnut wood. The largest in Rocamadour, this church follows a Romanesque and Gothic style. It is said to have been made between the 11th and 13th centuries.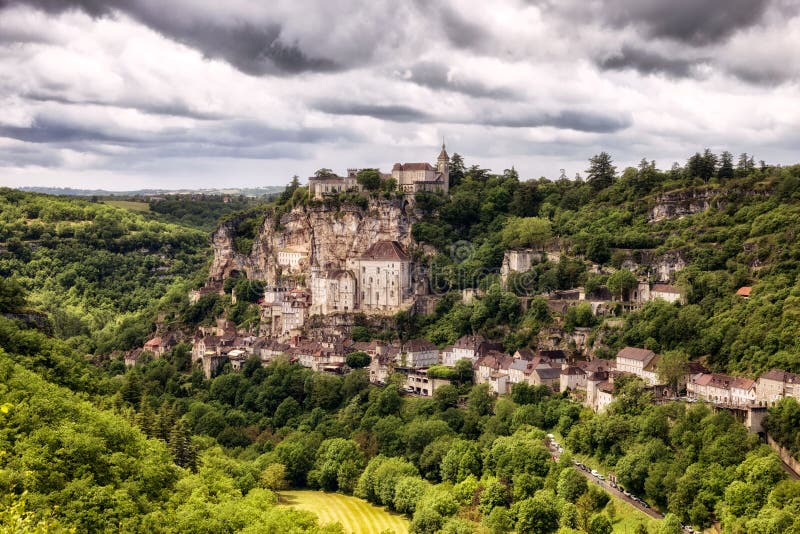 15. Prehistoric Cave Paintings in Lascaux
The paintings at Lascaux will give you an insight into the Paleolithic art. It was discovered in 1940 and closed to the public in 1983. However, the Lascaux replica is just 200 metres away from the original. The art at Lascaux II is very similar to the original and consists of 90% of its works.